Discover New Adventures On A Horseback Riding Tour
Take a break from everyday life and embark on an adventure of a lifetime with a horseback riding tour.
Whether you are an experienced rider or stepping in for the first time, your tour will give you the opportunity to explore new places and bond with nature – from the comfort of beautiful horses.
Activities
Start Time: 08:00 AM or 03:00 PM
Meeting Point: We will meet at the beach.
Activities: The route we take on the horseback tour is special for those who love seeing beautiful landscapes, including mountain peaks observed from above the branches of Sámara and Buena Vista and the immense sea.
Duration: 2.5 hours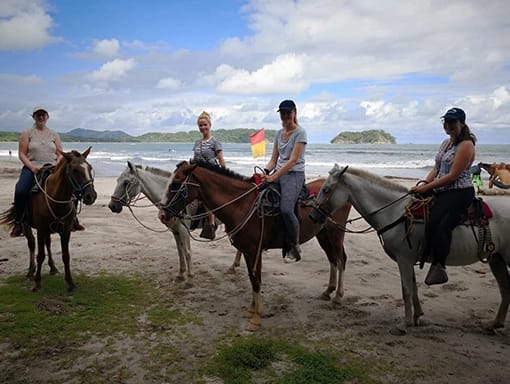 Experienced Guiding Horses
Prepare for an Unforgettable Adventure
Frequently Asked Questions
Where Can I Go Horseback Riding for a Day?
For a delightful horseback riding experience in Costa Rica, look no further than our guided tour in Samara. Samara is a picturesque beach town located in the heart of Guanacaste, offering stunning coastal landscapes and lush tropical scenery. Our horseback riding tour allows you to explore the mesmerizing beauty of Samara and its surrounding areas. Traverse pristine beaches, venture through the jungles, and witness breathtaking ocean views as you ride along with our experienced guides. This tour is thoughtfully designed to cater to riders of all levels, providing an unforgettable and immersive adventure through the enchanting landscapes of Costa Rica.
What to Wear Horseback Riding in Costa Rica?
When on a horseback riding tour in Costa Rica, it's essential to wear comfortable and appropriate clothing. Opt for lightweight, breathable clothing that offers ease of movement. A long-sleeved shirt and long pants are recommended to protect your skin from the sun and potential brush. Closed-toe shoes with a sturdy sole are ideal for a secure grip in the stirrups. Don't forget to bring a wide-brimmed hat, sunglasses, and sunscreen to shield yourself from the strong tropical sun. Additionally, it's always a good idea to carry a refillable water bottle to stay hydrated during the ride.
How Is Horseback Riding in Costa Rica Guanacaste?
Horseback riding in Guanacaste, Costa Rica, is a remarkable experience filled with natural wonders and cultural charm. The region's diverse terrain, from the pristine beaches to the lush forests, provides a perfect setting for unforgettable rides. As you explore Guanacaste on horseback, you'll have the chance to encounter an array of native flora and fauna, including tropical birds, howler monkeys, and more. The local culture and warm hospitality add an extra layer of authenticity to the journey, creating lasting memories of your time in this captivating region.
Meet Some Satisfied Clients
"We loved our tour!
Thank you so much for an amazing day!
A great family adventure!"
Are You Ready to Explore the Sea Life?