Kayak and Snorkeling Expedition to Chora Island
During this tour, we will kayak in the Pacific shore to the island and as you arrive on the island you will see an exotic pink sandy beach. Here you can at leisure walk the shore and explore it.
While on the island you will have the opportunity to snorkel into clear waters and enjoy the tropical sea life or you can just relax and take in the rays. After relaxing on the island for 2 hours you will leave with a unique experience.
Activities
Start Time: Depends on the tide schedule
Meeting Point: You can head directly to the meeting point, or request pickup.
Activities: Paddle around the famous bay and reef of Sámara Beach with the destination Chora Island.
On Chora Island, we prepare a snack for you and then you can snorkel around the Island discovering the tropical colorful underwater world.
Duration: 3-4 hours
Best season: During the whole year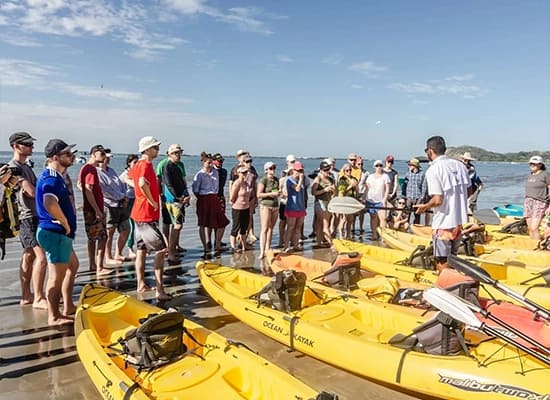 Prepare for an Unforgettable Adventure
Frequently Asked Questions
Is Snorkeling Good in Costa Rica?
Without a doubt, snorkeling in Costa Rica is a true delight! The country's coastal waters are teeming with marine biodiversity, making it a haven for snorkel enthusiasts. The warm waters of the Pacific Ocean and the Caribbean Sea host a stunning variety of fish species, sea turtles, rays, and even the occasional sighting of harmless reef sharks. The coral reefs and underwater rock formations contribute to the rich marine ecosystems, creating a mesmerizing backdrop for your snorkeling adventure. Whether you're a seasoned snorkeler or a beginner, you're bound to have an unforgettable experience exploring the abundant marine life beneath Costa Rica's azure waters.
Can You Snorkel Off the Beach in Costa Rica?
Yes, absolutely! Costa Rica's stunning coastline offers excellent opportunities for snorkeling right off the beach. Many of the country's beaches, especially those in regions like Sámara and Guanacaste, boast vibrant marine life and clear waters, making them perfect for snorkeling adventures. Just grab your snorkel gear, wade into the warm waters, and you'll be greeted by an array of colorful fish, coral reefs, and other fascinating marine creatures. Snorkeling off the beach is a fantastic and accessible way to explore Costa Rica's underwater world.
Do I Need Experience for Kayaking?
Not at all! Our kayak tours are designed to cater to participants of all experience levels, including beginners. Whether you're a novice or an experienced kayaker, our knowledgeable guides will provide you with the necessary instructions and safety guidelines to ensure a smooth and enjoyable kayaking experience. Kayaking in Costa Rica allows you to paddle along picturesque coastlines, navigate tranquil estuaries, and observe the captivating beauty of the country's natural landscapes from the water. So, don't worry if you're new to kayaking; our tours are perfect for everyone, including families and adventure seekers.
When is Kayak Season?
Fortunately, kayaking season in Costa Rica extends throughout the year. With the country's tropical climate, you can enjoy kayaking adventures in any season. However, keep in mind that certain regions might experience slight variations in weather patterns and water conditions during different months. Our kayak tours are carefully scheduled to provide you with the best possible experience regardless of the season. So, get ready to embark on an incredible kayaking journey, immersing yourself in the serene beauty of Costa Rica's coastal wonders and serene waterways.
Meet Some Satisfied Clients
"You have to paddle from the beach to the island, the guide explains perfectly how to do it and the safety measures, it is not tiring, it takes about 15 min. the island is beautiful with white and pink sand. I was fascinated by the snorkeling, we saw lots of colorful fish. We loved it, we enjoyed it and we recommend it 100%."
"My mom and I enjoyed a nice morning kayaking to the island and snorkeling around the reefs!
Alfredo and his team were on time, professional and knew a lot about the local flora, fauna and even things to do during our trip (surf, yoga, things to do etc.)."
Are You Ready to Explore the Sea Life?