Witness the Magic of Turtle Hatching in Costa Rica
If you are looking for a truly special experience, consider taking a turtle tour. Embark on an unforgettable journey and witness the magical sight of thousands of turtles laying their eggs. Learn about their incredible hatching process and how conservation efforts are helping protect these fascinating creatures in the wild.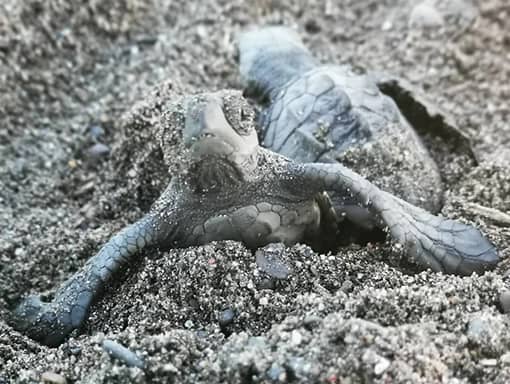 Activities
Meeting Point: We pick you up.
Activities: Many of these marine enclaves are considered to be key environments where four species of sea turtles can be found—the Green Sea Turtle, Leatherback, Hawksbill, and Olive Ridley — along with other local wildlife.
Duration: 3-4 hours
Choose between one of the two beaches below: 
Just one hour south of Samara Beach you can find Camaronal Beach where every night between June and December, the Olive Ridley sea turtles come to nest in small but consistent numbers (not more than 20).
We stay roughly an hour, giving us plenty of time to observe them nesting and see them returning into the sea.
Start time: 5 pm, but this time may be affected by the tides.
Duration: 3 hours
$50
/person
At Ostional Beach, turtles are seen only 4 -6 days each month from June to December, following a crescent lunar cycle, during which time sightings are registered during the day and night.
Daytime sightings have the distinct advantage of sunlight giving tourists the ability to take wonderful photos, which is not allowed during the dark.
Playa Ostional is almost two hours from Playa Samara. The trip includes a couple of river crossings.
Start time:
Duration: 4-5 hours
Minimum 4 persons
$70
/person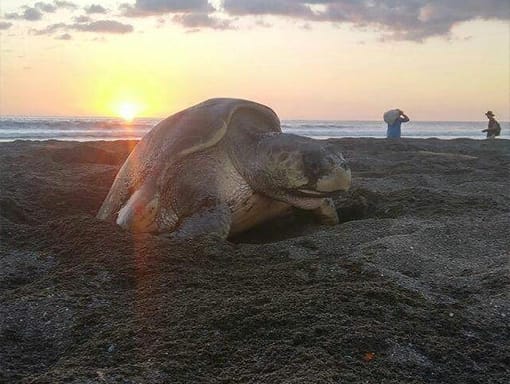 Information session regarding the sea turtles of Costa Rica
Prepare for an Unforgettable Adventure
Frequently Asked Questions
When to See Turtles in Costa Rica?
The best time to witness the awe-inspiring spectacle of turtles nesting in Costa Rica is during the nesting season, which typically runs from July to November. Different species of turtles, such as the Olive Ridley, Leatherback, and Green turtles, make their way to the country's pristine beaches to lay their eggs. Witnessing these gentle giants emerge from the ocean and lay their eggs under the moonlit sky is an unforgettable experience, and it's essential to plan your turtle tour during this season to increase your chances of encountering these magnificent creatures.
When Do Turtles Hatch in Costa Rica?
After the nesting season, the next natural wonder unfolds as the baby turtles start hatching and making their way back to the ocean. This remarkable event generally occurs from September to January. The exact timing can vary slightly depending on the species and environmental factors. The emergence of tiny turtle hatchlings is a heartwarming sight, and witnessing their determined journey toward the water, and overcoming various obstacles is a truly memorable moment. Join us during this time for a turtle tour that allows you to observe and support these adorable creatures as they embark on their life's incredible adventure.
Where to See Turtles in Costa Rica?
If you're looking for the best places to witness the awe-inspiring nesting and hatching of turtles in Costa Rica, look no further than the Ostional Wildlife Refuge and Camaronal.
Ostional Wildlife Refuge: Situated on the Nicoya Peninsula, the refuge is renowned for its incredible "arribadas." These mass nesting events feature thousands of Olive Ridley turtles coming ashore simultaneously to lay their eggs. Witnessing this natural wonder is an unforgettable experience, and it occurs from July to November.
Camaronal: Another fantastic destination for turtle enthusiasts is Camaronal, located on the Pacific coast. This protected beach is a crucial nesting site for various turtle species, including Olive Ridley, Leatherback, and occasionally, the majestic Green turtles. The nesting season at Camaronal typically takes place from September to January.
Both the Ostional Wildlife Refuge and Camaronal offer a unique opportunity to observe and support these gentle creatures during their nesting and hatching seasons. Our turtle tours to these beaches are designed to provide you with an insightful and responsible experience, while also contributing to the conservation efforts to protect these vulnerable marine species and their habitats.
Meet Some Satisfied Clients
"WOW! Being able to experience the Arribada, the mass nesting of sea turtles was the highlight of my trip! This tour is one of a kind. I was so fortunate to see 200 mama turtles that night!!! It was a beautiful and intense experience, and honestly the coolest thing I've done in Costa Rica! Thank you Sámara Sea Tours and the best guides ever for giving me this experience! Pura vida!"
"My friends and I went on the Ostional turtle tour with Samara Sea Tours and all had a great time. Our guide was really knowledgeable and shared a lot of interesting information about the turtles and Costa Rica with us. Definitely recommend!"
Are You Ready to Explore the Sea Life?